Madrid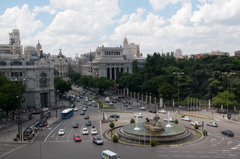 Smack dab in the center of the Iberian Peninsula, high on a central plain, Spain's sprawling capital takes all comers. This bustling city of around 3.5 million inhabitants lies in the center of the small region known as the Community of Madrid, containing a few smaller urban centers, with a total population of just over 6 million. Bounded on both sides by the autonomous communities of Castilla-Leon and Castilla-La Mancha, the flat terrain of the Meseta (the plateau) belies the fact that it's one of the highest capitals in Europe. It's hot in summer, cold in winter, and dry and crisp all year round.
Madrid is quite young relative to other Spanish cities. Though inhabited since ancient times, the city bears few traces of the peninsula's Roman or Islamic eras. It really started to blossom under the Hapsburg emperors, especially when Felipe II moved his imperial court there in 1561. What we think of as old Madrid today – the Royal Palace, the Opera House, the monumental gateway – is largely the work of the Bourbon monarchs in the 18th century. Since then, Madrid has passed through history as a prize for the power hungry from Napoleon to Francisco Franco to the last (failed) coup attempt in 1981.
Madrid held out against General Franco's nationalist forces for the almost three years of Spain's Civil War and its fall in 1939 signaled the end. The dictator's era (until his death in 1975) would largely shape the city we see today. Madrid grew perhaps too fast at times, with waves of immigrants from the less prosperous south of the country swelling the city northward away from the historical center, gradually swallowing up what had once been separate communities.
The 1980s, when the country was finding its feet after Franco's death, saw an explosion of repressed creative energy. This hard-partying, no-holds-barred pop culture explosion is known as La Movida, and is familiar to most non-Spaniards through the films of Pedro Almodovar.
Abiding Traditions
Madrid is young. You won't find impressive Roman ruins in Madrid. Galicia has the ancient Celtic stone circles. For awe-inspiring cathedrals you really have to go to Sevilla, or Granada, Burgos, or Barcelona. But the nice thing about being in La Capital, is that all the portable culture comes to you.
The museum's of Madrid house some of the world's most iconic artwork, from Velazquez's Las Meninas to Picasso's Guernica. The Gran Via ("Great Way," or "main street") is lined with theaters. Any big musical tour will stop in Madrid, including some impressive summer music festivals. Though bullfighting culture is mainly a southern phenomenon, again, the capital reserves the most important bullring, Las Ventas, for itself. No torero can make it without making it in Madrid.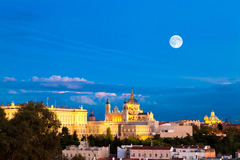 Moving to Madrid
Madrid has almost double the proportion of foreign born residents (16.7 percent) as the national average, with some barrios at 30 percent or more. If your goal is to immerse yourself in a "purely" Spanish environment, you'll have a tough time here. If, however, you like your Spaniards mixed with a good dose of Moroccans, Irish, Romanians, Senegalese, Ecuadorians, or Bangladeshis, (to name a few), you are in luck.
Luckily you don't have to live right in Plaza Mayor, the city's central square, to feel you're in the thick of things. Madrid's many different neighborhoods are well connected by a clean, bright, reliable metro and many bus lines. In terms of public transport, Madrid is right on par with any big European city and considerably better than most American ones. The monthly subway pass, which gives you unlimited rides for a fixed amount, makes it cheap and convenient if you have to commute for work. If you've ever paid more than £3 for a London tube trip, this will feel almost free.
If you want to move outside the city, there are quick, cheap bus and train rides to nearby cities like Toledo or the nearby sierra for when you need to escape the crush of city life. Buses and trains also leave several stations to all corners of Spain, and the high speed AVE train can get you to Malaga or to Barcelona in a few short hours. Madrid's Barajas International Airport can connect you to the rest of the world and is easy to get to by metro. If you're the restless, wandering type, Madrid is a great choice for a home base.
Working in Madrid
If you can't find work in Madrid, you probably can't find it anywhere in Spain. The Spanish economy may not be humming at the moment but the capital is the nerve center of government and commerce and your chances are better in Madrid than anywhere. Many multinationals have offices here, there's a wide array of professional possibilities, especially in the IT sector.
Generally speaking, unless you're working as an English teacher, you will need to speak Spanish. Don't count on a multilingual workforce; Spain is a bit behind other European countries in terms of learning English en masse.
Salaries, like the relative cost of living in Spain, are lower than in most big European capitals. Many young workers in Madrid complain of being "mileuristas," meaning they can't seem to make more than around a thousand (un mil) Euros a month. Typical new English teachers can expect to earn between €900 and €1,200 a month depending on experience and the number of classes you choose to take on. If you're earning €35,000 a year in Madrid, you'll actually be quite comfortable.
Food and transport may be cheap, but housing in Madrid is on the higher end for Spain. Renting a room in a shared flat can run from €350 per month (for the college-kid/backpacker lifestyle) to €550 per month (for the grown-up who needs sunlight and air). A studio for less than €800 a month is hard to find, and probably unpleasant to live in (though you sometimes get lucky!). For a comfortable one-bedroom, be prepared to spend at least €1,000. It's no surprise so many young Madrileños live with their parents until their 30s.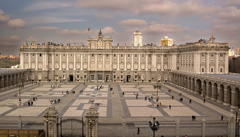 Living in Madrid
The city has calmed down a lot since the heady days of the 1980s, and most people associate artsy-bohemian life with Madrid's eternal rival, Barcelona. But being the political and commercial center isn't as serious a business as it may sound. The city will always keep you on your toes: whenever there's a political demonstration, a papal visit, or a national celebration of a football victory, the biggest crowds will always gather in Madrid. And they'll go to the Madrileños' favorite place to be: the street.
Unsurprisingly, Madrid's culinary offerings are also more varied than most parts of Spain. There's good Thai, cheap and tasty Indian, rather expensive Mexican, lots of South American fare, Senegalese bites, vegetarian options and, of course, every kind of Spanish food imaginable.
If you like to cook, you'll be glad that, in addition to the normal supermarket chains, Madrid has some great markets full of specialized stalls to keep you in high-quality fresh greens or pork chops, cheese or fish. Compared to many places in Europe and the U.S., the basics like bread, milk, cheese, produce and meat are much more affordable. Madrid may be a bit of a challenge for those with dietary restrictions, but it's not impossible, and it's getting better all the time.
If you hanker for home cooking there are various specialty shops catering to (mainly) Americans and British, but also Germans, Latin Americans, South Asian and other regional tastes.
Even though there has been a shift to damp down Madrid's nightlife, the streets of the central barrios and plazas of Madrid are still noisy late into the night, especially in warm weather and on weekends. A summer dinner may not finish until midnight or beyond, and a good night out can last until dawn (if you want it to).
All political stripes are represented in the capital: you can still see Franco's name adorning the Air Force building on one side of town (where someone, in an unguarded moment, may wax nostalgic about the dictatorship), or you can check out the national headquarters for the anarchist trade union, the CNT, on the other side of town (where bank windows seem to be vandalized slightly more frequently than elsewhere).
As in most urban areas, Madrid has seen a shift to the suburbs for larger, newer, cheaper housing. If you need to save some cash for the long term, you have a family and need some space, you want the quiet life or just really prefer living in monotonous brick buildings, staying out of the center may be a good fit. But seeing as how most people don't go to Madrid for a period of reflective solitude, expats tend to gravitate toward the center and the center-north business areas.
Madrid has a lot to offer the curious foreigner: it can take you easily to all parts of Spain and brings many parts of the world to you through its international community. The pace of life here is faster than anywhere else in the country, though still relaxing compared to workaholic nations. Though business and politics are huge presences in the city, Madrileños still insist on making time (lots of time) for eating, drinking, dancing and just talking, sometimes for stints that seem almost exhausting to the novice. If you can channel all that boisterous energy, living in Madrid will be an invigorating experience.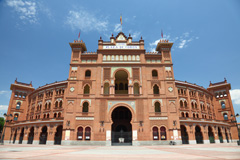 Top 5 Sights
1) The Prado Museum. Go see the masterpieces of Spanish and Dutch artists.
2) Plaza Mayor. In the past Madrileños came here to see heretics burnt for the Inquisition; now it's a place for drinking beer, people-watching and listening to street musicians.
3) Rastro & La Latina on a Sunday. The Rastro flea market is where you can get anything and everything you didn't actually need to buy on a Sunday morning. When you're done with your shopping, move into the bars of La Latina for refreshment.
4) El Retiro. Once the province of royalty, this park in the center of Madrid is where everyone of every stripe goes to cool off, have a picnic, play some football or participate in a drum circle, especially on Sundays.
5) The Bernabeu Stadium. A must-see for any football fan, one of the largest stadiums in the world and the home of the winningest football club in history.