Murcia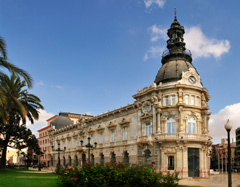 One advantage to living in the Murcia region of Spain is that the area has escaped the coastal development of the adjacent regions of Valencia and Andalusia. Apart from a major development on La Manga, Murcia remains a typically Spanish region. A quick Spanish lesson here: La Manga means "sleeve" in Spanish, and the region's only major building project occupies the 22-km-long sleeve of land that separates the Mar Menor from the Mediterranean Sea.
Like most of Spain, Murcia has a varied culture, the legacy of numerous invaders through the centuries. In 227 B.C., the Carthaginian general Hasdrubal founded a settlement at modern day Cartagena, one of the most beautiful and historic cities in the whole of Spain. In Roman times, the city was an important port and mining area, and it's still a working port today.
In 713 A.D., the Moors arrived in Murcia and conquered the land and its people. As well as founding the region's capital city of Murcia, they constructed a system of canals radiating from the River Segura, and built dams and water wheels to provide irrigation for the Segura Valley. This allowed the arid plains of inland Murcia to be used for agriculture.
Murcia came under Castilian rule in 1243, although it remained an independent kingdom. The region enjoyed a period of prosperity and growth, particularly in the 16th and 18th centuries, although these islands of peace were interspersed with periodic episodes of political and military unrest. Murcia suffered badly during the Spanish Civil War (1936–1939), but it's now rising to the challenges of the twenty-first century.
Abiding traditions
Murcia loves its fiestas. The most significant are the Bando de La Huerta and the'Burning of the Sardine, which both take place around Easter. The Bando sees the country folk move into Murcia city for a day, dressed in regional costumes. They set up stalls – baraccas – to sell food, and enact scenes from Murcian legend. In the afternoon, there's a parade of carnival floats through the city, with revelry continuing long into the night.
The Burning (or Burial) of the Sardine involves a noisy, crazy procession. Again there are floats, guarded by torchbearers who also save local children from being crushed as they scrabble around for the toys and sweets thrown from the floats. It's a night of mayhem and madness, with roots that stretch back to pagan times.
The Carthaginians and Romans fiesta in September celebrates Cartagena's heritage. Then there are the Festejos Taurines, the bullfights. Catalonia may have banned bullfights, but Murcia has more than almost any other region of Spain. Those who are against the concept may prefer to relocate elsewhere in Spain, as most of the villages and towns in Murcia have at least one festejo during the year.
Due to its increasing prosperity, Murcia is now an attractive destination for immigration. Around 250,000 (14%) of Murcia's residents are from outside Spain, with Europe, Africa and America providing more or less equal numbers.
The Murcia region's total population is currently just under 1.5 million. It has grown by around 17% since 2003, and approximately half of the population is based around the cities of Cartagena, Lorca and Murcia. There are over 400,000 residents in Murcia, which has a large university. The population is relatively young, with a significant percentage between the ages of 25 and 29.
When moving to Spain, it makes sense to learn the language, and the government of Murcia provides free Spanish lessons for schools and colleges with high numbers of immigrants
Castilian Spanish is the official language in Murcia, although there are various regional dialects. Some towns – notably Mazarron and San Pedro del Pinatar – have an active integration policy aimed at encouraging locals and expats to socialize and learn about their respective cultures and customs.
Living in Murcia
The air quality and the proximity of the Mar Menor combine to make Murcia one of the healthiest places in the world to live for people with asthma or arthritis. The lifestyle is slow-paced and stress-free, and the Mediterranean diet makes for better health and longer life.
Murcia enjoys a low crime rate, and the cost of living is less than on the neighbouring Costa Blanca and Costa del Sol, which are much more tourist-oriented. House prices in Murcia are around 30% less than the national average. Away from the big cities, the region is sparsely populated, so getting "far from the madding crowd" is a distinct possibility in Murcia.
Transport connections are excellent – the roads are well maintained, and the A7 motorway and N332 coast road link Murcia with other areas of Southeast Spain. There's a mainline rail link between Murcia and Alicante, from where it's possible to travel all over Europe by train. There are frequent, low cost flights out of Murcia's San Javier Airport, and the larger Alicante Airport is just over an hour's drive from the center of the region. A new Murcia airport has been built at Corvera, and when it opens, San Javier will revert to a military airport. At the time of writing (October 2011) there is no official date for Corvera's opening.
Murcia has its own food specialities, including revuelto – eggs scrambled with runner beans and ham. Murcian salad, consisting of cooked peppers, onions, eggplant, garlic, tomatoes and often tuna, is another local favorite. Rice dishes made from the local Calsparra rice are different from paella, Valencia's principal rice dish. However, Murcia has its own version of paella – paella huertana, made with locally grown vegetables.
If you're a vegetarian, Spain may not be for you. In Murcia ham is a regional speciality and it goes into almost everything, even when diners ask for a meal "sin carne," without meat. To the residents of Murcia, a meal without ham (jamon) is a bad meal. Eating out can be cheap or expensive, ranging from the basic but substantial Menu del Dia, which can cost as little as six Euros, to fine dining
.
Murcia offers a taste of the real Spain, which is why it is becoming an increasingly popular destination for both families and retirees. This region of contrasts has something to offer everyone, whatever they may be looking for in their new life in Spain.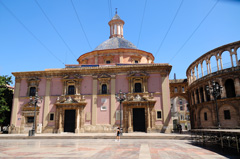 Working in Murcia
Unemployment in the region is reducing, due to government reforms aimed at creating jobs. In 2009, Murcia's growth rate was the highest in Spain, so indications for the future are promising.
Murcia ranks as one of the top ten cities in Spain for living, working and trading. Employment satisfaction is higher than in other regions of Spain, while the basic salary is comparable to the national average.
The service industry is the biggest employer in the Murcia region, accounting for more than 65% of all jobs. Work is also available in construction, industry and agriculture. Internet connections are good across the region, making working from home a viable option.
English-speaking residents can find work in property sales and maintenance. The local English press are always looking for journalists and sales representatives, and there are numerous openings for beauticians, hairdressers and fitness instructors. Fluent Spanish speakers can find work as translators for the expat community. International removal companies always require drivers, and there are private-hire contracts available for airport runs.
1) Murcia, the capital city of the region
2) Cartagena
3) Mar Meno
3) Coastal Calblanque
5) The spas of Fortuna